Operational Excellence initiatives are often viewed as complex undertakings that require a large commitment to full-time staff and training programs. However, continuous improvement can be achieved with surprising speed, simplicity, and a high return on investment. Read how the COO of a midsized trash-to energy company found a way to improve performance on safety, materials usage, plant outages, and more by making an easy-to-deploy, team engagement method the cornerstone of the firm's Operational Excellence initiative.
Notwithstanding its laudable mission of converting non-hazardous waste into clean and reliable electric power, the trash-to-energy industry operates in very demanding plant environments where round the clock coverage, vigilant focus on safety, and the need to maintain environmental integrity are daily mandates.
Operational Excellence is not an option for companies in this competitive industry where fluctuation in energy prices requires disciplined expense management and standardized plant operation.  But launching a traditional Operational Excellence program can be a difficult business proposition given the cost of full-time support staff and training.
As the COO of one, midsized company in the industry explained, "I was looking for a way to introduce a more formal Operational Excellence program for our plants, but at the same time, avoid the overhead and negative perceptions sometimes associated with expert-driven programs like Lean Six Sigma."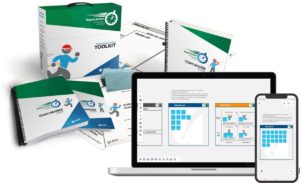 Engaging Frontline Employees to Drive Operational Excellence
Based on the recommendation of a new plant manager, who had experienced the approach in his former organization, the COO requested a briefing to learn about an innovative improvement method from Leap Technologies, called Rapid Action. This small team improvement process, perfected over the last two decades, is ideally suited to organizations that cannot afford the cost and time required to launch a conventional Lean Six Sigma program with full-time Belts and extensive training and coaching requirements.
According to the COO, "After seeing a demonstration of the process, I was impressed enough to sponsor a test of Rapid Action at a few of our plants given the relatively modest investment and quick turnaround involved. If this wasn't' the right approach, we would know in less than 90 days and without busting our budget."
The plan called for launching Rapid Action teams in six of 18 operating plants across the country to give the approach a thorough testing. A two-day workshop provided the opportunity for the plant manager and a designated team leader from each site to be trained on the Rapid Action process including use of an "all in one" toolkit for planning, launching, and managing a small improvement team. The workshop was also an opportunity for each plant manager to select a Rapid Action assignment, develop a project charter, and review it with the COO.
As the COO commented, "The Rapid Action Workshop was a very effective and efficient way to get the process launched across six locations. I wanted each plant to decide what priority opportunity to work on, but I also wanted to be confident in the goal and metrics built into the project charters. The Rapid Action Project Planner included in the toolkit made the task very easy."
Within two weeks of the workshop, each plant launched its Rapid Action project. Over the next six weeks, the teams completed their projects by testing and implementing solutions that had been brainstormed and prioritized in the launch meeting. Each team completed its project by assessing the operating and financial impact from its actions. Everything was made easier to accomplish using Leap's proven and reliable Rapid Action Toolkit.
Results from the initial wave of Rapid Action teams validated the COO's decision to trial Rapid Action as the vehicle for accelerating Operational Excellence across plant locations. All Rapid Action teams completed their assignments within the planned 60 days and, in total, more than 40 solutions with projected annualized cost savings of $493,000 were implemented.
The implemented solutions responded to specific plant issues, ranging from increasing the efficiency of preventive maintenance programs, reducing outages, controlling overtime, improving  safety awareness, and driving down lost days due to injuries. In a number of cases, the Rapid Action team solutions were designated as best practices and deployed across all plants.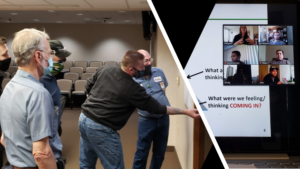 For example, the Rapid Action team from a plant in the New England area, came up with a way to improve the operating life of industrial valves used throughout the plant. Actions taken by the team included: Spot training to raise awareness of best practices for effective valve maintenance; better tracking of valve repair costs to identify wear patterns; and, the creation of an online networking system with other plants to share information on valve inventories and reduce stocking costs.
The team saved the plant more than $93,000 in reduced valve replacement expenses for the year ahead. The transfer of the team's innovations multiplied the impact many times over as more plants adopted the valve replacement regimen.
Reflecting on the experience with Rapid Action, one of the sponsoring plant managers remarked, "Our people are very savvy and experienced plant operators, but we weren't tapping that resource in a consistent and focused way. Rapid Action provided a cost-effective way to get our people to link their good ideas directly to company goals."
Sustained Operational Excellence through Rapid Action Teams
Over the past 10 years, this successful trash-to-energy provider has sustained its commitment to employee-driven Operational Excellence through Rapid Action teams. Nearly half of the organization's total plant employee population has participated on Rapid Action teams.
Each year, plant leaders choose areas to work on that tie to key company goals and respond to issues raised by employees. Results are tracked on a team-by-team basis and every employee has the opportunity to contribute ideas, work on implementation of solutions, and receive recognition for participation.
Looking back on the original decision to launch Rapid Action, the COO offered the following observation, "Many organizations have made big investments in Operational Excellence programs like Lean Six Sigma, only to find that they've over-invested and then, have to cut back when times get tough. What's worked for us is keeping it simple and easy for our plants to engage employees in solving mutually important improvement challenges, while insisting our leaders stick to the Rapid Action discipline for getting maximum results for minimum hassle."